Interaction Designer / Multimedia Programmer
June 1994 – September 1997
Summary:
None of the products from this period exist any longer, of course. This was back in the good old days before internet access was commonplace and electronic catalog updates went out twice a year in a new set of discs.
This was also the period of designing for 640×480 displays. Many of the principles from this kind of design are still applicable to today's web interfaces and are overlooked because of a belief that people "just scroll" through information.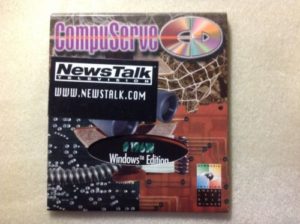 Responsibilities:
Lead usability design on several database-driven and multimedia applications. Championed usability design and testing as part of good development processes.
Meet with clients to determine project scope and goals as well as suggest other enhancements that could be provided by the additional internal skills
Design, document and prototype interfaces for numerous business applications using Visual Basic
Lead development on the second generation of the CompuServe CD, built entirely as a hybrid CD and Web publication using Macromedia Director
Implement usability testing methodologies as part of the design process
Manage relations with development team members to ensure application development meets design and client goals